The vast open spaces and rolling hills of Henry County are a perfect setting for horse lovers. It's not uncommon to see four-legged friends trotting down the streets during local parades, but this is only part of Henry County's horse-loving story.
The Henry County Saddle Club is a foundational aspect of our community, drawing in thousands of visitors each year. The Saddle Club facility is considered one of the best in the region, with well-kept barns, 300 permanent stalls (along with 65 temporary stalls available), heated and covered wash bays, and a variety of arenas. The facility features a café with a full breakfast and lunch menu during shows. Additionally, local restaurants provide options for show participants to enjoy in the evening.
The President of the Henry County Saddle Club, Rebecca Baker, is an avid horsewoman who shares this passion with her granddaughter, McKenna. They are both shown above at the Saddle Club's main indoor arena.
"I have loved horses all my life and having 13 at one time was a life changing experience. I prayed for horses as a young child while I was riding friends' horses and I was truly blessed," Rebecca shared. "I love to nuzzle them and breathe in their amazing, unique scent."
"Managing the Henry County Saddle Club is a great gift for a horse lover but a greater gift for those who don't own one. God knew what he was doing when he created the horse for our joy but without them, our civilization wouldn't be where it is today," she adds.
All the horses are personally owned and therefore the Saddle Club asks spectators to not enter the stall barns or pet the horses. The Club asks visitors to stay in the public areas where there are bleachers. This protects the horses, riders, and spectators.
As a former 4-H Horse and Pony competitor, Audrey Felix grew up in Henry County and competed in Show Jumping, Barrel Racing, and Pole Bending. She appreciates the connection she made with other Saddle Club members.
She notes, "My family got me my first pony when I was eight, and I have been in love with this hobby ever since," Audrey explains. "I grew up trail riding and as I got older, I was able to participate in Henry County 4-H programs. This is where I learned about and grew a passion for barrel racing."
Audrey has competed in barrel racing for six years, participating in 15 rodeos just last summer. She loves riding her six horses and has big plans for her future.
Cara Huffman, co-owner of F.C. Tucker Crossroads, has similar sentiments about the warmth of Henry County's horse community.
She says, "The environment at 4-H is competitive yet supportive. I have made lifelong friends from other school districts; I never would have met otherwise. It is awesome for kids to learn responsibilities and learn how to care for their horse. Some of my best memories include horses and the people I rode with."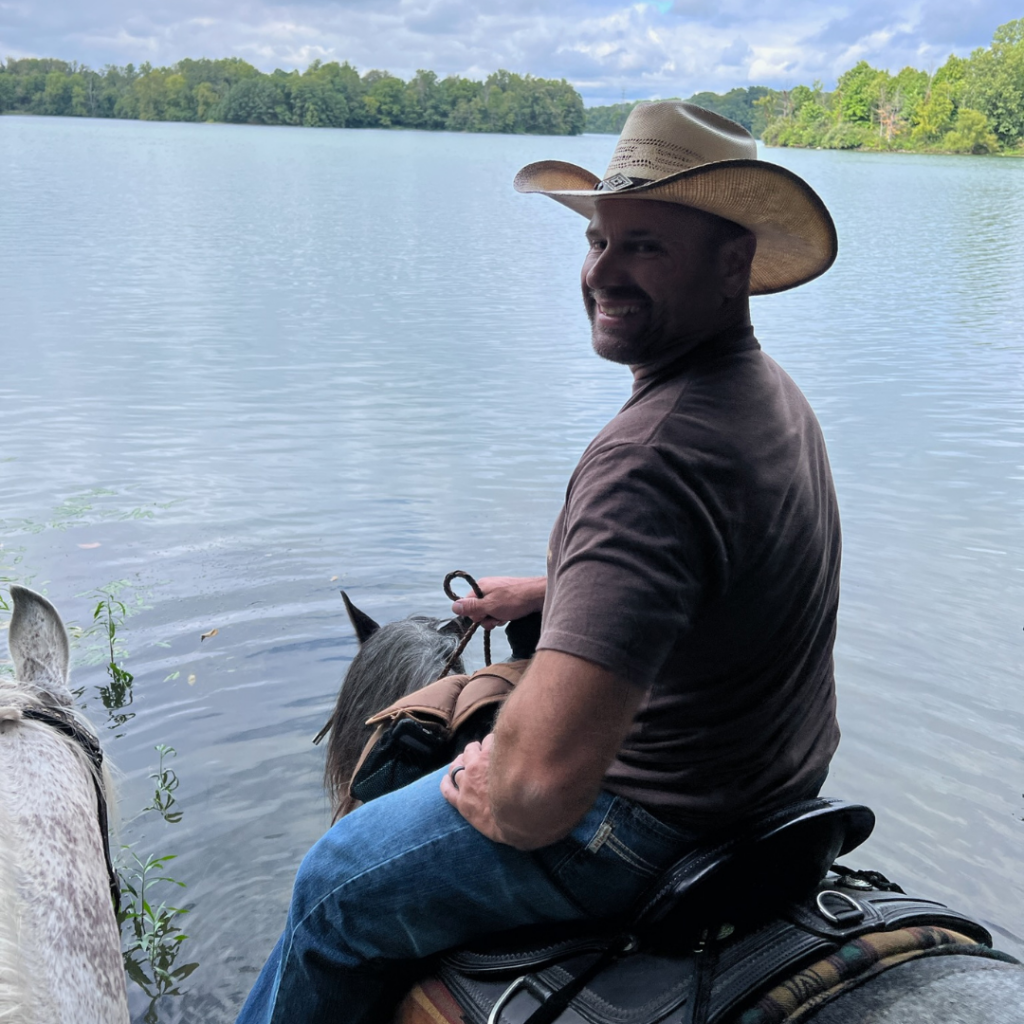 Furthermore, Cara and her husband Matt enjoy riding their horses together at local parks such as Westwood Lake. "Riding horses is very therapeutic, and horses have a way of making people feel better," Cara mentions.
Cara also describes that in Henry County riding on the roads is safe here, and one can feel comfortable while taking a ride on country roads.
Only minutes away from the bustle of New Castle one can find a peaceful Westwood Park with a 180-acre lake. The 6-mile horse trail circles Westwood Lake providing both scenic views and rolling terrain. Riders begin at a day use horse area, which provides parking and hitching rails.
The views around Westwood Lake are unparalleled, and locals claim the most scenic spots in the county are here. What better way to experience these views than on horseback?
Henry County native Kellie Riggs also shares about spending her time riding at Westwood Park.
"We are fortunate to have the bridle trail at Westwood Park! It's a great ride and nicely maintained. Henry County is also situated within a couple hours of several state parks that offer bridle trails," Kellie notes.
Why not spend a day riding your horse through the woods in the heart of Indiana?
"Westwood Park has a beautiful horse trail winding around the lake and wildlife and flowers can be spotted throughout the seasons," observes Rachel Snavely Appleby. "I am forever grateful for the people in my life I share a love of horses with and this wonderful place I call home," she says.
Henry County is a great location to spend time with your equine friends. Westwood Park and the Henry County Saddle Club offer amenities for horses and their people.
All Saddle Club events are free. Some events that may particularly interest the public include:
-Sept 30- Oct 1: IN Pinto Fall Finale
-Oct 7-8: American Shetland Pony Club & IN Small Equine Association
Visit the Henry County Saddle Club for specific event information, www.hcsaddleclub.com and follow the club on Facebook.